I'm here blogging at one in the morning b/c I can't sleep and I'm sure I won't finish....but its worth it to try and start. To all you babywearing mommas...want a great shot? It was my turn in the nursery at church on Wednesday night...what do you do when you have to chase a few toddlers and have two babies that have to be worn? Bundleboo and a Lite on the shoulder sling!!!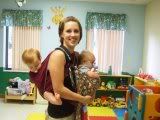 I couldn't resist putting Terris headband on baby Taite! He is too cute! I swear he is too pretty to be a little boy! I need a spoon . . .b/c I could just eat him up! :-D I trotted around the church with the kiddos strapped up...too much fun!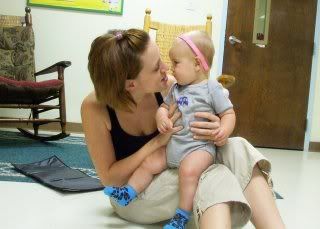 Today..yesterday..okay well Thursday I took Terri to the doctor. She has had this cough for a while...nothing too bad but she is having surgery on the 30th and I can't afford even a sniffle! I have all the faith in the Lord but why shouldn't I try to do everything in my power as well? Any time you have to have a baby put under anesthesia you should be super cautious!!!

After the appt...which I must add went super super quick! Email me if you live in my area and I'll give you the name of a GREAT doctor office! ;-D Afterwards we headed to Andreas house. Since Travis went out of town for the day we figured we would keep her some company! I won't get into the boys ... Andrea mentioned we (her and I) should have our picture taken together with my new and improved hair....photo shoot! I hate to have my picture taken! If you haven't noticed I usually crop myself out or just have pictures of the kids. But the pictures today all turned out great! You have to take a multiple self timed picture just so a few will turn out. Ya know a girls gotta have her options!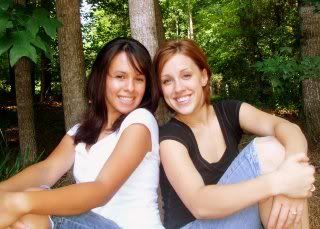 So I've been mei tai/sling searching tonight...whats up with all the great sites out there? I sent an email to Heather at Mom4Life and told her that her site make s me want to get pregnant and start working again! Go and just look at all the adorable maternity clothes!I would so still wear some of that stuff!! Not with the babies on it...nooo...I won't mention ::ahem:: anyone that lives in their maternity tanks...and ISN'T preggers!!!!!!

I went to Ball Baby and was loving all the patterns! Whats up with EVERYONE carrying babylegs? Do I want skidpants or babylegs? I know what I like about both better...but I can't figure out which I have got to have! But even they have babylegs!~I just don't' think they'll be ling enough for Terri unless I pay the extra and get the longer ones! geeez! See all this pressure! I should be knitting right now! I need to learn it would so calm the nerves!

Don't Forget...Contests...Pinks and Blues are still doing the Fabulous Summer Giveaway!
Drea is giving away an ADORABLE SET of a onesie and a pair of babylegs! I would take either(black or the pink!) But the onesies only go up to 12months! poo! Terri wouldn't fit with CD on! :-( If I win I'll keep the bbl's tho! te he!

I'm tired I'm going to bed! 1:22a.m.!!!! eeeek!