All of this for less than 40 dollars! YEP! Thats including lunch for the day.
One of my best finds was
THIS
for $4.00!! Thats a $60+ value! whoo hoo!
So I snuck off and picked out....
THIS lit'l beauty
. (
Sleeping on her back
...too cute!) Surprise Mason! :o) He named her Molly. Molly MO!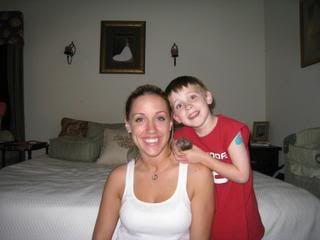 Nicholas was happy
with all my great finds too!
Later on we headed to my next door neighbors church outreach. Fun. Lots of...fun. Food, games and I won a DVD player! :o)
Clint kept Terri so Mandie and myself only had...1,2....3, 4, 5...yeah 5 kids. (Tookie was with his Daddy too)
It was HOT out!