Can someone please help my son comprehend the COMPLEXITY of the swinging of a BAT. :o)

He USED to swing really well. USED TOO.

Mason mommy loves you honey but you are not a logger. Your playing base ball.


This is his stance...
(
his lit'l toooshie is so cute in that uniform!!!
)
Mason in his "READY POSITION"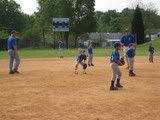 Back shot of the team...
**************

The OTHER Team cheerleader....Izzy. (ubber cute!)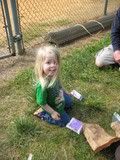 Stylin in her big brothers hand me down shoes that she is TOOOOO proud of! :-)
No matter how Mason plays along as he shows good sportsmanship and has a good time thats all that matters to us. Boy does he have fun. Especially when his paw-paw comes to the games b./c THEN he gets to go get Ice Cream. :-)