I went to the womens mission meeting at church tonight and as I sat there listening, I found that I learned alot about myself. I listened to the prayer requests of my Christian sisters and I thought the whole time what I could do to help them. Donna asked for prayer for a new member of our churchs son. He is only 11 years old and is going through treatments for cancer. Donnas kids are friends with him and could not understand why he has to lay in a machine for 6 hours today. I thought to myself how hard it must be for him and his family. The question arose if he was terminal or not. I couldn't help to think about myself at that point. I wasn't being selfish, or getting off the topic of this child. I just thought that I really need to go back to work Hospice. I can't tell you how much I loved being with these people and trying to make their last days and their families easier...brighter. I thought about the people that he sees 3-5 days a week in the hospital, I thought that I could be one of those people that could hold him and help him get through his pain. God Bless this family. He can only go through radiation one more time for the rest of his life. The doctors are thinking that it might have to be soon. PLEASE pray that HE can make a way to ease his pain. Pray that God brings some sort of relief and comfort to this family. Please.

OKAY Sorry I had to upset everyone. I will tell you that I DID learn that my "borderline" O.C.D is a sin. WHAT??? We joked about it, but in reality I am "worried and distracted by many things;" But God says that there is "need of only one thing"...HIM. "which will not be taken away from me"!!! (Luke 10:41,42).This was such a topic that Lyndie chose tonight. It really hit me face on. I am worried about all the little things like my linen closet being straight or my cloth diapers being folded the same way...instead of being like Mary and focus on loving God; to do this one thing is to choose the better, to be a disciple of Jesus.

What else did I learn? That parenting can be full of trials/tribulations. But being able to share the bitter and the sweet with my fellow Christian sisters makes my journey easier. Being able to go and laugh at a simple face that my daughter makes might help bring a smile to the face of someone tomorrow!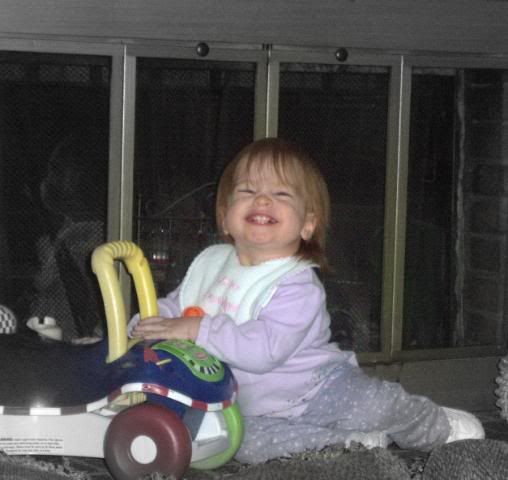 WHAT ELSE DID I LEARN????
toooooo knit! Thats right
Aura
(
Dreas
mommy). I did it! ARE you proud?? I know you wanted to teach me. But I would only stress you out! ::snickering:: Well not me but the kids! Well I would stress Cliff out. Terri climbing the stairs and inevitably falling right back down them. Then Mason would probably be swimming in the fish pond. :-) I know your probably just happy for me. You are so kind! So
here is what I started with....
Here is where I am now.
Yes I know its is long. everyone did a short one and started on their scarfs. I am a little more ...(whats the word?)...rambunctious. I want to make the worlds ugliest blanket!!! My first knitting session and I am talking throws already? yeash! I definitely have high standards! I need to keep you updated. I also need to get off her and start reading my new book for Bible study, its Lies Women Believe. By Nancy DeMoss.
I just wanted to say again, how wonderful it is to get together with other Christian women and jion in on such warm fellowship! I strongly suggest to all of you out there to join in and receive support and find friendship as you share your journey through marriage, parenting, and life with Christ.