Oh and for those of you that requested that I take pictures of Terri in HER hairband by Matica Designs ....here ya go!




The original post was done weeks ago

but poor

Terri Jade got a boo-boo

! (Notice the red still under her nose?) So when HEATHER THE WONDERFUL FABULOUS Domestic

DIVA

sent me this bow I was upset because I wouldn't get good pictures of her in it. (My niece came in town for her birthday so I used her head and face)

I hate I didn't' get pictures of Terri last Saturday night!!! Clint, Terri myself and my in laws all went out to

Bone Fish Grill
(plug plug...my favorite restaurant...hint hint wink wink...LOL) So Terri wore this sweet baby blue outfit her new sandals and the

HAIRBAND

by Matica

(along with THIS sling)

Before we went in my FIL, Doug made a wise crack about Terris accessories and my MIL replied that she thought it was sweet. Well we all know who has the better taste! Clint told Doug that "Where ever we go people stop Elizabeth and ask her where she gets her stuff and how much they like it" As we walked into the restaurant we passed by tables and as I am used to the stares as of my amazing beauty and Terris gorgeous smile and my Ginormous (it in the dictionary!) hubby...it was nice that my FIL could see that Terri was such a charmer in her accessories (the ones he was making fun of)
She got sooo many looks and compliments!! As we sat down a lady at the table beside us started to talk to Terri and tell her how pretty she was w/ her flower. The by the time we had finished eating the table behind us had me writing down site addresses and email address for slings and blogs and hair bows....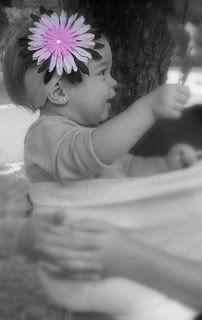 My MIL and FIL swear I should go into advertising. I will talk to anyone.
Terri again in the Headband by Matica
Terri and Keziah
I'm going to have to get a
Customized Flower Hats by Matica Designs
for this fall. Or two!!!!!!! ;-D