YEP you heard me...my kidlets had a mind change last minute last night. Terri was going to be the beautiful witch with the little tutu. Mason was going to be Spiderman ....again for the thrid year in a row.

THe day started off all wrong...missed naps, late appointments, forgot money for the grocery store and I let my grandmother in my car, need I say more? I should have expected my kids to be frazzled!

::big breath:: Oh but at least I got a picture of me in my cute lit'l black Cracker Barrel shirt I've had for three years and Have never been able to find on Halloween.


WHILE she should have been napping!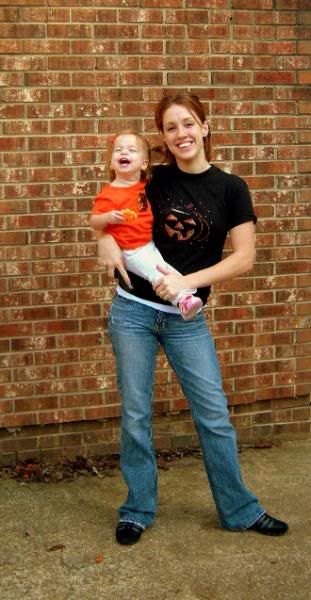 Click to enlarge and take in the MAJOR cuteness of "THE FACE"!!!
Then I took the kids for a walk (while they should have been napping I know I know) But
here is ANOTHER of T baby looking cute
and extremely ghetto w/ her hair all jacked up
in her orange pumpkin shirt!!
HERE is one of baby Kristopher looking

pumpkinfied
*(thats the term what you get when you have a extra fluffy baby in an orange shirt)*
SO the costumes...
I DID get the tutu on Terri but I kind of just wedged the hat in the stoller and left her in there. I NEVER took her out!! ha ha!! I walked up to the doors and said oh the baby is down there. ::giggling:: Everyone of course thought she was adorable~
MASON ON THE OTHER HAND...got a hand me down "Scream" costume last minute from my 8YO cousin and HAD to wear it. UGH!!! I really don't wanna promote the goolish "evil" side of Halloween. But ya know what could I do? YES I could have said no, but he is still too young to know the evil. He just wanted it b/c it was his older cook cousins.
Here Ya Go~~~~>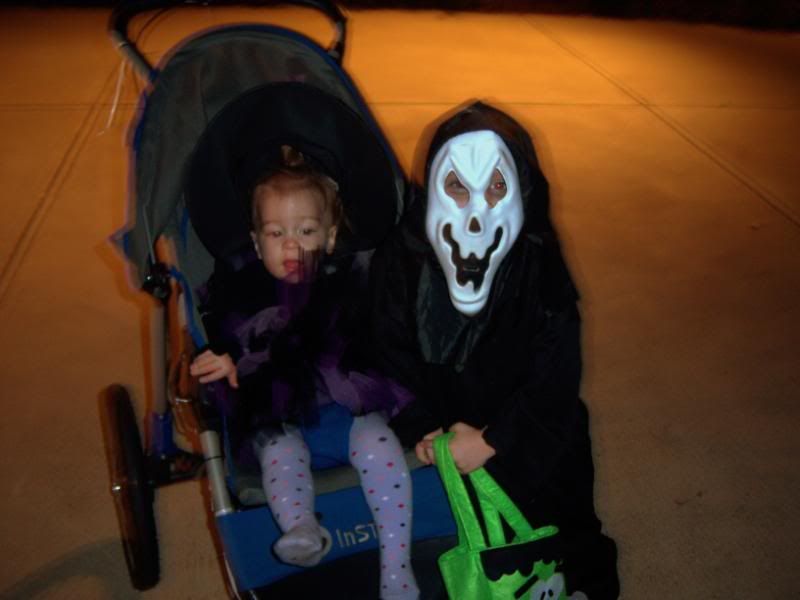 I put a purple dress on Terri and a black long sleeved Old Navy top. PERFECT with the cool evening! Oh and a little fairy dust on her cheeks! :-) Mason was so JACKED up on candy by the 12th house we called it a night! We went to my best friends parents neighborhood. THEY HAVE THE BEST candy!! Oh and the decorations are awesome. Fog machines and hay rides. Those people sure do know how to spend their money! :-) Oh and some of them just leave huge buckets on their porch with FULL SIZED play Doh, Pop corn, and choose your own candy!! ♥ THAT!!
After Trick or Treating we went to my inlaws and Terri Jade was lovin up on her MaMa Joy and her PaPa Doug while her big brother ran some of that sugar off!
SHE JUST WANTED THAT HAT OFF OF HER!!!!

OHH THE FUNNIEST THING....Before we left our house a trick or treater came up and all I heard Clint say was
"Dude what are you like 40?"
I nearly fell on the floor laughing! This boy was 11 and looked like he was in his twenties. He just started laughing! Whats up with that? People KEEP your teenagers HOME! I saw some young girls walking around looking like Hookers (NO REALLY that was their costumes)
and they couldn't have been 15 or 16 tops. These girls had as much cleavage as me when my milk came in. I felt sorry for their parents!
TERRI WILL BE ON A SHORT LEASH!