I've been working with Terri ECing since last April (I think) That would've made her 10 months old(right?). Well, last week SHE went 4 days total with underwear on. Three of those days, only ONE peepee accident, ONE of those days NO ACCIDENTS!!!!!!!!!!!!!! (SHE WAS wearing a cloth diaper at nap times!!)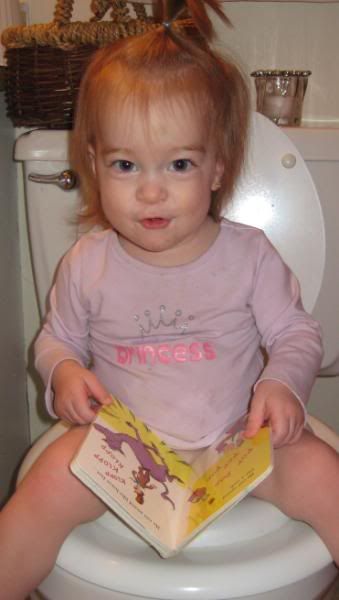 BUT COME ON 18 MONTHS OLD and only 1 accident a day! AWESOME!! I don't think I deserve a pat on the back either. This is all Mrs. Terri Jades doings. She walks up to me and says "eww peepee" or else I hear the toilet lid slam and thats my sign!
I hand her some reading material and off she "goes"! :-DM
Too bad she is training in her big brothers old undies! LOL! I am persistent on calling them panties. I don't want her to think that she can always wear her brothers underwear.
HA HAA!