I thought that staying busy would keep my mind occupied with all of the things that are going on right now. I decided to "tackle" Masons bookshelf. Since my 5YO is a "born reader"
...he tends to get too many books out and then he finds that they don't all fit back.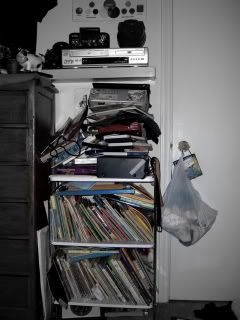 I figured I would try to help out this catastrophe by putting a few books up.
TOo bad I tried to do this with 4 yes 4 kids in the house and a 5YO standing over my shoulder saying "No way mommy I Wove that book!" "Nope not that won either".
I did get the finished product to look like this~~>
BUT not soon enough. I had 3 one year olds pulling at me from all different directions, Terri was picking up books and running into the other room. Tristan was climbing on the stack of books and Kristopher was trying to eat them. ::sigh:: Well at least I accomplished ONE thing today!
Oh and don't forget to check out
DE Reviews
for the giveaway of the full
Pure Anada
gift set! Go over and check it out!! NOT JUST for MOMS...any woman would love this!