Do I have A.D.D. or O.C.D.????

Join me in Tackle it Tuesday to find out!!!


So WHY is it that in my house the rule is (or the rule IN MY MIND is) that IF I can't do it right ...or don't have enough time to do something then i don't do it at all? Am I the only one?
If I don't have time to fold and hang my clothes the way they are supposed to be then I kinda just leave them. If I don't have time to properly clean my floor (once a week on Thursdays) then I just sweep (everyday). Meaning when I mop...I HAVE to have everything off of the kitchen floor. If I don't have time to do that I CAN'T bring myself just to mop the walking path like some people.
My linen closet...
I CAN't stand it if my sheets aren't all folded the same way. (THey always are b/c I am the ONLY one that folds them.) BUT Clint does TRY to fold towels and it drives me
CRAZY
when they aren't all folded the same way. I try not to say anything because he is trying but why can't he understand that everything fits better when it is the same? I just quietly go behind him and refold. That has to be O.C.D., right?
So today is cloth diaper day......I have so many prefolds that I only wash now ONCE a week!!!!! My 9 BumGenius and my pocket Change stretch me out another two days so I have to only wash once a week!!! It great! I know what your thinking...ewww that smaell. NOPE not in this house. I actually use a metal (I think its metal?) trash can for my dry pail. So literately NO smell seeps through. It helps that Terri hasn't pooped in a diaper in the past THREE weeks!!!! I keep the pail behind the door in Terris room so our company can never tell where the dirty diapers go.
After I wash and HANG the AIO diapers, I dry the rest outside and then I tumble the prefolds and inserts in the dryer. It is Masons job to take the stuff out of the dryer and sort them on the couch. Mason knows that the cotton babies inserts are separte from the montana inserts and the bamboo inserts. He also separates the thick prefolds (the good ones!!) from the store bought and the old school ones (my mom sent me some that were mine and Johnnys as a baby)!!!
So you tell me is that OCD? or ADD? I'm really trying to train Mason that certain things stay together and it makes life easier when you know where everything is. But am I creating a organizing monster? Doubt it!
Here is my stash................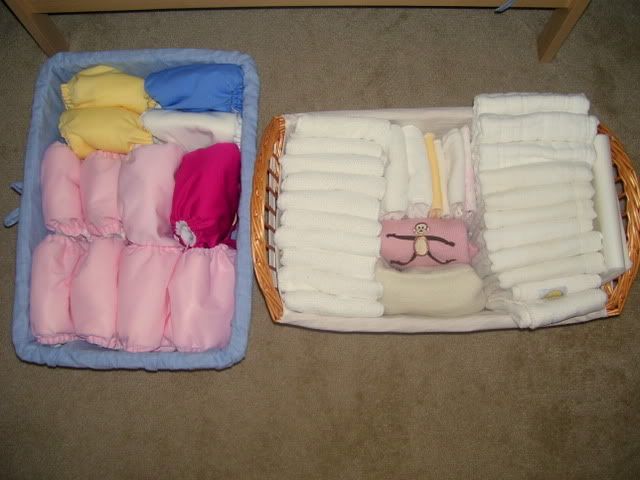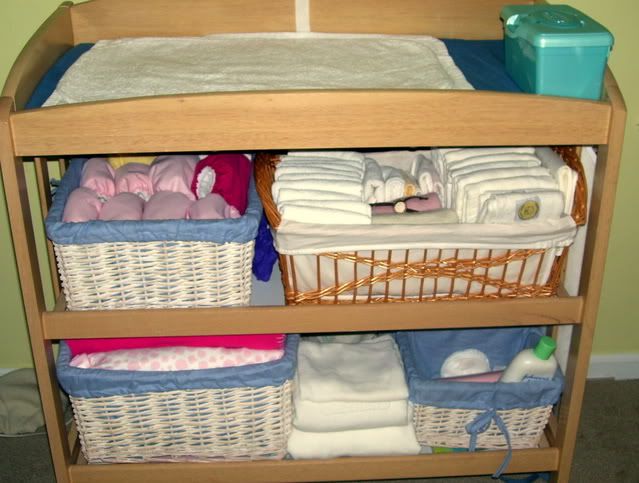 How does it Look? Okay I'm off!!!!!